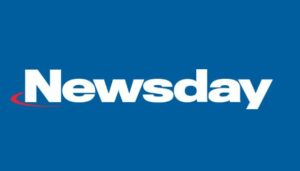 A complex system of sea gates and concrete walls with lifting panels are needed to protect Long Island's vulnerable South Shore communities from storm surges and rising sea levels, according to a study by a Stony Brook University professor.
"Protecting Long Island from Future Sandy Flood Events: A South Shore Sea Gate Study" argues that a layered defense system is necessary to protect low-lying coastal communities from conditions similar to the unprecedented flooding experienced during Superstorm Sandy 10 years ago.
The study, which was funded through a grant by the State Department of Environmental Conservation, was presented Wednesday to the Long Island Regional Planning Council during a virtual meeting.
"To put it bluntly, how many people need to drown before we get action," said Malcolm Bowman, the study's author and a professor of oceanography at Stony Brook's School of Marine and Atmospheric Sciences. " … Do we have to wait for Sandy Number Two to come roaring by before we wake up and say, 'this was not a freak of nature?'"
In the wake of Sandy, a now former member of the State Assembly solicited Bowman to assess the feasibility of installing sea gates, which would serve as storm surge barriers in the Great South Bay, from the East Rockaway Inlet to the west to the Shinnecock Inlet to the east.
"While some important work has been done to improve our resiliency and protection we still have a lot of work to do," said John Cameron, chairman of the Regional Planning Council. "The island is still very exposed to major storm events and flood damage."
The DEC was not involved in the study but administered the grant from the 2018-19 state budget to SUNY Stony Brook for $250,000 and Stony Brook is required to file a final report by the end of the year.
Bowman created seven different models — ranging from doing nothing to extensive protection measures — for preserving the region's coastline, and those living near it.
The preferred option, Bowman said, calls for the installation of sea gates, which would be activated only before major storms, at the East Rockaway, Jones, Fire Island, Moriches and Shinnecock inlets.
The plan also calls for the installation of "cross bay baffles" — dividers with lifting panels used to direct and slow the flow of water — near the Meadowbrook and Robert Moses parkways, as well as in Amityville, Bayport and Smith Point.
The baffles, Bowman said, would operate similarly to pulling up a window blind. During good weather, he said, the panels stay up, allowing water to flow through, but during a storm surge they'd be lowered, blocking the flow. Swinging gates, he said, would be needed to let boats through.
Bowman said the plan would allow for normal navigation of South Shore inlets, rivers, canals and estuaries, involves proven technologies and can be implemented relatively quickly.
"This scenario provides the ultimate protection at, of course, the highest cost," Bowman said.
Additional studies, he said, would be needed to determine the cost of the plan, its feasibility and potential effectiveness. Who would build the sea gates and who would finance the project was unclear.
Robert Kennedy, mayor of Freeport Village, which sustained extension flooding damage during Sandy, said "we need to put up these surge barrier gates to protect the South Shore of Long Island and to fortify the barrier island."
Last month, the U.S. Army Corps of Engineers proposed a $52.6 billion plan to install sea walls, breakwaters, levees and flood walls around New York City's harbor and its tributaries.
The plan called for storm surge barriers around lower Manhattan, Newark Bay, Brooklyn's Red Hook, Flushing Creek and Jamaica Bay in Queens but does not include Nassau and Suffolk.
The project hinges on Congress approving funding for the federal share of costs — about $34.2 billion — and local officials picking up the bill for the remaining $18.4 billion.
By Robert Brodsky