LIRPC Updated on Transformative Rail Projects it Has Long-Supported, Including Double Track and Main Line Expansions
Syosset, NY – October 2, 2018 – Calling Long Island "the epicenter for major transportation innovation in the state," MTA Chief Development Officer Janno Lieber provided an overview of the organization's major rail infrastructure initiatives to a recent meeting of the Long Island Regional Planning Council, the only planning body representing Nassau and Suffolk counties.
Lieber noted the LIRPC's long-standing support for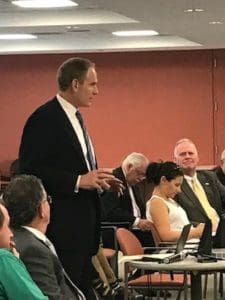 transportation improvements: "The MTA relies on the leadership of elected officials who 'get' the importance of infrastructure to our future, to our families and to our economy."  In fact, the Council serves as a catalyst for action by proposing and supporting implementable short and long-term solutions for issues of regional concern.
"The Long Island Regional Planning Council has always lent its voice to transportation infrastructure initiatives that will improve mass transit, improve traffic conditions , and help spur significant economic growth," said LIRPC Chairman John Cameron.  "The MTA is making substantial, ongoing efforts to actively engage all stakeholders, from elected officials and municipalities to the businesses and residents along the transit corridors right from the very outset of these major improvements, which will result in a true 21st century suburban rail line."
The Long Island Regional Planning Council comprises public and private sector leaders who are experienced and knowledgeable in business, environment, transportation and planning. Its main goal is to educate Long Island officials, stakeholders and residents on key issues affecting the quality of life in the region, and it proposes immediate and long-term strategies and solutions. The Council actively identifies and advocates for "Projects of Regional Significance."
Of the 100 rail projects underway on Long Island, Lieber outlined the transformative benefits of the three most significant enhancements – the Double Track from Ronkonkoma to Farmingdale, the Main Line Expansion from Hicksville to Floral Park, and the East Side Access from Long Island to Grand Central Terminal.
When all three are operational, Lieber stated, the work will:
Increase the LIRR's peak period capacity by 45%, which will save commuters time and present them with more options;
Increase operational flexibility, to bypass disabled equipment or unexpected track issues; and
Allow for a fully functional "reverse commute" from New York City to Long Island, so that regional businesses and institutions can compete for knowledge workers.
Double Track
Lieber said the 18 miles of a second track, running from Ronkonkoma to Farmingdale, opened last month. The project will increase both in-bound and reverse commuting capabilities and minimize service interruptions. He also noted the important economic benefits along the corridor, such as accelerating Transit-Oriented developments in Ronkonkoma, Wyandanch and Farmingdale, and increasing service capability to nearby Islip MacArthur Airport.
Main Line (Third Track) Expansion
The addition of a third track to the 10-mile Main Line corridor, from Hicksville to Floral Park, is "essential to the whole railroad,"Lieber said, pointing out that 40% of LIRR riders pass through that line on a daily basis.  Along with increasing service in both directions and reducing delays, he noted the project includes significant safety benefits by eliminating 7 grade crossings and raising bridge clearances at 7 other locations.
"The Third Track Expansion is being done with a real community conversation," Lieber continued, engaging all involved stakeholders and tying a portion of contractor compensation to community ratings. "This is a chance to pioneer a model of good project management," he noted.
LIRPC Executive Director Richard Guardino added, "The two existing tracks on this line were constructed 170 years ago. Along with relieving bottlenecks and eliminating safety hazards, this is a vital service expansion that will allow for economic growth and transit-oriented development in the region, which is essential for Long Island's future if we wish to attract and retain young people to live and work here."
Lieber noted that full details on all MTA/LIRR infrastructure improvements are available at www.AModernLI.com.