Penn Station Redevelopment Project Gets State's OK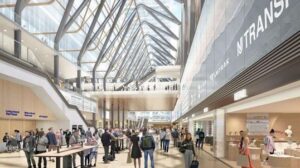 A rendering of proposed upgrades at Penn Station. The plan establishes the framework to fund improvements, which include taller ceilings — accomplished by removing much of the upper level — wider walkways, skylights and 18 new entrances. Credit: New York State Urban Development/Empire State Development
By Alfonso A. Castillo
Updated July 21, 2022 7:59 pm
An $8 billion project to redevelop Penn Station, in part by building up to 10 skyscrapers nearby that will help fund several improvements at the Long Island Rail Road's dilapidated Manhattan hub, was approved by the state on Thursday.
The Empire State Development Board unanimously approved the "general project plan" for the redevelopment, and granted various other approvals, including for a funding agreement between the state and New York City in which the state would make the city whole for lost property taxes from the development site.
The plan also establishes the framework to fund the proposed upgrades in Penn, which include taller ceilings — to be accomplished by removing much of the upper level — wider walkways, skylights and 18 new entrances.
In a statement, Empire State Development president and CEO Hope Knight called the vote "a major step in the long-overdue effort to reconstruct Penn Station and revitalize the surrounding area by approving a fair, forward-looking plan that prioritizes commuters, residents, and riders."
Payments in lieu of taxes — or PILOTs — collected from the new residential and office buildings to be erected in the district would go toward funding 12.5% of the Penn expansion and reconstruction efforts. Under the agreement, New York City would fund another 12.5%. The state is counting on New Jersey picking up another 25%, and the federal government to pay half the cost of the project.
Gov. Kathy Hochul, who is spearheading the project, has suggested the construction of a new Penn Station could start as early as next year and take about five years to complete.
The arrangement has further unsettled some critics of the project, who have said its primary goal is to benefit private real estate developers — who get to bypass city zoning regulations and receive tax breaks — and not commuters. Alex Washburn, a former chief urban designer for New York City, called it "outright hoodwinking."
"And the ones who got rolled are the people who really want a great new station. This is not about them," said Washburn, who is underwhelmed by "minuscule" 12.5% PILOTs revenue commitment to fund construction work.
Washburn and other opponents have said a more ambitious redevelopment would have included relocating Madison Square Garden, which sits atop Penn Station.
"It's better than the hell we have today, but it is not what we, or any leading city, would do for their primary transportation facility," Washburn said.
In a meeting with board members Thursday, Holly Leicht, executive vice president for Empire State Development, explained the reasoning behind moving forward with the project before having funding commitments from the federal government or New Jersey.
She said the $1 trillion infrastructure package approved by President Joe Biden's administration late last year provides an unprecedented opportunity to secure federal funding. And the expected completion of East Side Access this December — giving the LIRR a second Manhattan terminal — will create a "very short window" during which capacity is reduced at Penn. The MTA plans to link Metro-North Railroad to Penn in the future.
"That's a moment when it will be easiest to take tracks off line. They will be able to do this work with minimal disruptions," Leicht said.
Empire State Development chairman Kevin Law also praised the vision for the project, which was initially proposed by then-Gov. Andrew M. Cuomo in 2020 and revised by Hochul in November. The retooled proposal includes expanded commitments for eight acres of public space on street level, including a plaza larger than that at Rockefeller Center, and for the inclusion of 540 units of affordable housing in the new buildings.
"It's going to create another pot of money for the Penn Station reconstruction. And that's not only going to benefit folks in New York City. It's going to bring tremendous benefits to the people on Long Island, where I live," Law said.  "You're creating a really neat transit-oriented development around the most important transportation hub in the metropolitan area. And that is very exciting."
David Steckel, spokesman for the MTA, which will head the Penn Station construction efforts, thanked Hochul for "accelerating the transformation of the station for Long Island commuters and the entire region."
John Cameron, chairman of the Long Island Regional Planning Council, also celebrated the project's approval as  "a major win for the thousands of Long Islanders who commute to Penn Station every day."
"Thanks to the significant input from stakeholders, the surrounding district will also be a safer, more vibrant and commuter-friendly transit hub than ever before," Cameron said. "This is the future that Long Islanders deserve."
Matthew Cohen, president of the Long Island Association — a business and planning group — called the project "a win-win for Long Island and New York City, and a critical step forward in creating a welcoming, well-deserved cathedral to the commuter, not seen since the destruction of the original Penn Station."